Be a Volunteer
Are you a high school student looking for volunteer opportunities?
Apply to be a Counselor in Training (CIT) for our Girls in Engineering summer camps. Attend the camp for FREE while supporting staff and campers. CITs must be a rising 10th, 11th, or 12th grader during the summer when they volunteer.
Join our mailing list to stay updated about the 2023 application timeline. Learn more about the volunteer opportunity and the application process below.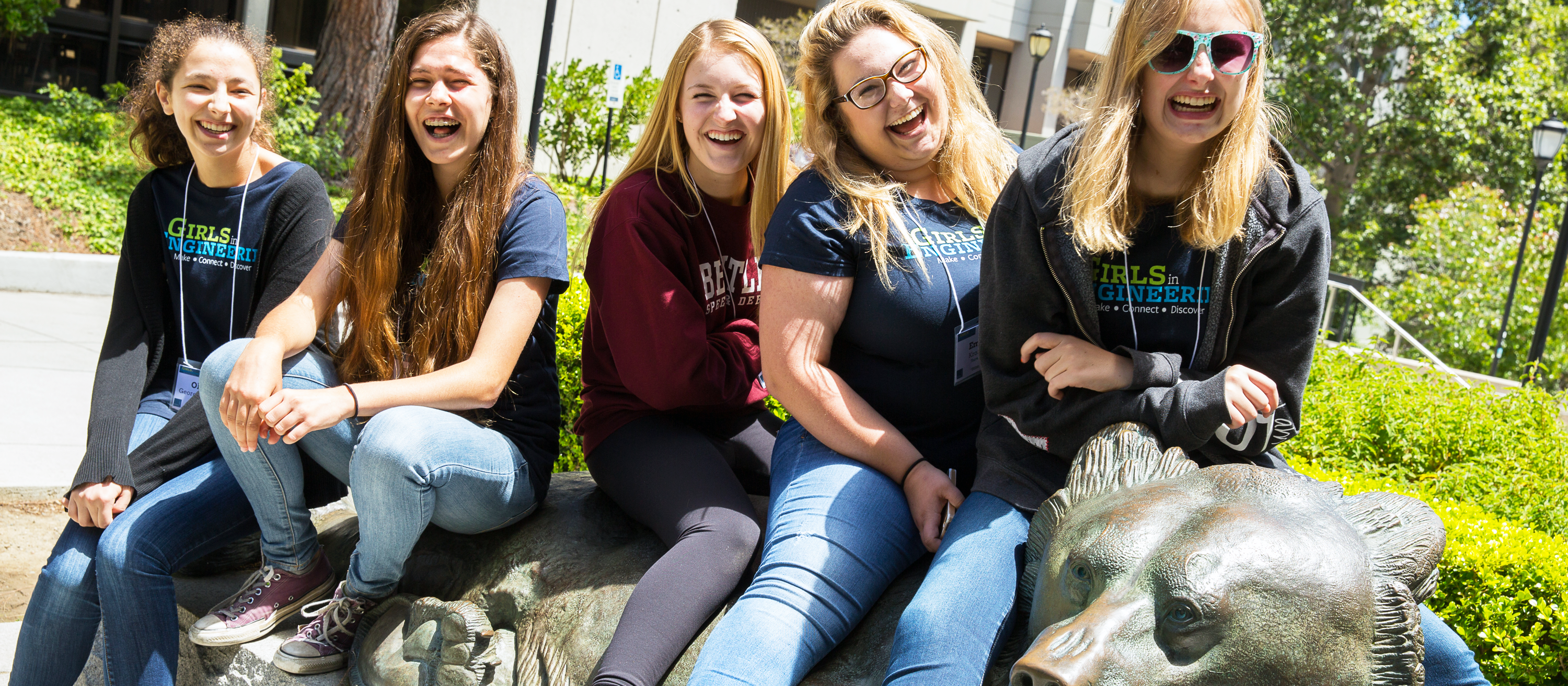 Who can be a CIT?
High school students of all gender identities are eligible to apply if they fulfill the following criteria at the time of the application:
They live in the San Francisco Bay Area
They will be entering entering 10th, 11th or 12th grade in fall 2022
We look for volunteers who:
Demonstrate a interest in and/or desire to learn more about engineering & science
Enjoy working with middle school students
Are responsible, outgoing, friendly & welcoming
Can bring energy & enthusiasm, whether in person or online
Tend to be natural leader
We strongly encourage students from the following backgrounds to apply:
Underrepresented in science & engineering
Low socio-economic means
May be first in their family to attend college
A counselor-in-training is an UNPAID volunteer position where high school students gain professional experience and participate fully in the smooth execution of camp.
Volunteer responsibilities include:
Attend camp for the entire session (or sessions)
Be a positive role model
Bring enthusiasm & interest to learning
Encourage camper participation
Lead games, answer questions & support staff
Enrich the camp experience
Each day you will assist with:
Hands-on activities
Facilitate games and activities
Fostering peer-to-peer connections
Provide individualized attention
The University of California, Berkeley campus.
Daily activities will take place at various locations around campus.
2023 SESSION DATES*:
Session 1: June 26 – June 30
Session 2: July 10 – 14
Session 3: July 17 – 21
TIME:
* Camp plans may be subject to change due to COVID-19.
What to expect with the CIT application process:
January 13, 2023 — HS CIT Application opens
April 1, 2023* — HS CIT Application deadline
April 28, 2023 — Admission decisions sent via email
* The application may close earlier if we fill all available spots.
High School CITs attend camp for FREE!
"As a CIT I was able to first handedly see the magic of GiE. This week I saw the how much a young adult can evolve and grow in just five days. The amount of confidence the campers gained and the friendships made, are all experiences that will impact the campers forever. There are many summer camps out there but I feel that the GiE experience is irreplaceable."

Maha, 2021 HS CIT